Profile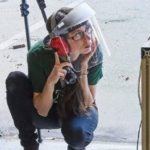 Alison Dufresne
Curriculum Vitae
Education:

University of Southampton

Qualifications:

Masters in Space Systems Engineering

Work History:

Boston Scientific, Tranquility Aerospace and Deep Space Industries

Current Job:

Propulsion and Systems Engineer

Employer:

I work for a company called Bradford Space. We are an international company who've been building engines and parts for spacecrafts for a few years now. We're planning on building our own spacecraft soon to send us to asteroids.
About Me: Silly, hardworking and enthusiastic about the future of space travel

Read more

Hey everyone! I'm an international space nerd. I grew up in a few European countries (most of my childhood spent in Kinvara, Galway) and ended up getting a Masters in Space Systems Engineering from the University of Southampton. I moved to America last year to work as a space propulsion engineer at an asteroid mining company. In my spare time I like to climb trees and game with my friends.

My Work: I'm a space propulsion engineer!

Read more

My work is designing and building rocket engines which will propel our future asteroid mining spacecrafts and those of many others who are exploring our solar system.

My Typical Day: Blowing things up (safely) and playing with spacecrafts systems

Read more

I would pass on the money to the University of Limericks engineering school to fund outreach programs like 'Girls Rule Stem Summit' and 'Inspire Summer Enrichment Program'
My Interview

How would you describe yourself in 3 words?

Nerdy, spacey, kind

What's the best thing you've done in your career?

Helped build/fire an engine that had never been built before

What or who inspired you to follow your career?

Sci Fi writers, tv shows and the sky at night

What was your favourite subject at school?

Applied Math

What did you want to be after you left school?

An engineer or scientist

Were you ever in trouble at school?

All the time

If you weren't doing this job, what would you choose instead?

A writer

Who is your favourite singer or band?

Led Zeppelin

What's your favourite food?

Chocolate in all of it's glorious forms

What is the most fun thing you've done?

Moved countries

If you had 3 wishes for yourself what would they be? - be honest!

To be where I am, doing what I'm doing but in a world where everyone gets to do what they want

Tell us a joke.

There are two types of people in the world: 1. Those who can extrapolate from incomplete data 2...
---
---
---